Welcome to Addictivity's free business healthcheck tool
Assess your business against the 27 key drivers of growth and profitabilty, and benchmark your business against your industry peers to see how you compare.

Addictivity
About Addictivity
In comparison to many other web design agencies, we are pretty ancient! However, being 'old' is in fact a good thing; it makes us experienced, mature, wise and full of character.
Addictivity was launched way back in the technical dark ages of 1998 when Flash ruled the world of web design. Things have certainly moved on since then, as have we.
We have grown and evolved with the years and what we can bring you is all the skill and knowledge we have accumulated. As one of the leading design agencies in the UK, we know what we are doing and we've been doing it for donkey's years.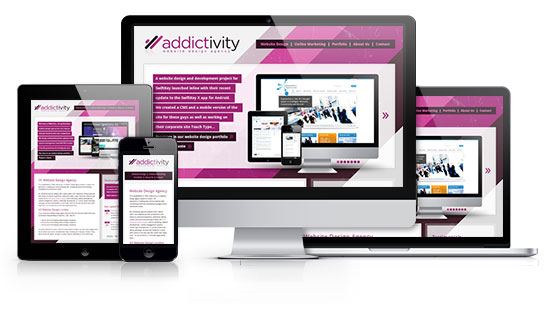 Why Pulse?
The Pulse will enable you to assess your business online for free against the 27 key drivers of profitability, as well as benchmarking yourself against your peers to see how you compare.
You have the option to delve deeper into your unique Pulse dashboard with a tailored guide which will enable you to make effective enhancements in how you work.
With the ability to continuously re-assess your business for free you can ensure you are on the road to consistant improvement.
This method of relfection and development is key to becoming the best you can be, as a business and as an employer.

More about Addictivity
We have worked with a hugely diverse list of clients from corporate giants such as Motorola and BT Ignite, to cutting edge brands such as Kickers and M&CSaatchi.
Our creative team is talented and contemporary and no design is too big or too small for us to get our teeth into. From bespoke CMS and responsive designs to E-Learning Systems and viral marketing campaigns, we can provide it all. We are razor sharp, innovative and above all, professional.
Check the Pulse of your Business
In just a few minutes, without leaving your desk, you can quickly assess your recruitment business to see just how efficient and effective it really is and whether it is truly maximising its potential ...all for free!
Pulse has been produced by a leading group of recruitment industry experts and business advisors.
Find out more about us
here or